3 in 1 Tour (Jaguar rescue center, Chocolate tour and Waterfall hike)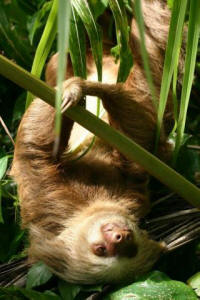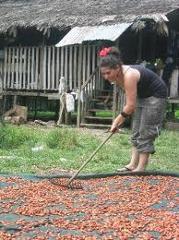 Duration: 6 Hours (approx.)
Jaguar Animal Rescue Center
The Jaguar Rescue Center offers shelter, treatment and protection to ill or wounded wild animals in the South Caribbean area.
The Center is run by Sandro, an expert in poisonous snakes, and Encar, a biologist with a vast experience with looking after wild mammals in captivity.
Sandro and Encar started the Jaguar Center with the aim of saving the lives of as many animals that come in to the shelter, as well as trying to re-introduce them to their natural habitat, the forests of the South Caribbean.
Chocolate Lady
Next we will visit an indigenous family where they make chocolate from the Cacao trees growing beside their house. You will learn and see demonstrated the process by which the cacao fruit is transformed into delicious and unique chocolate. You will have an opportunity to purchase some chocolate or other indigenous made handicrafts here. Note that part of the family speaks very limited English so if you don't speak Spanish your explanation of the process may take the form of a pantomime!
Waterfall
Finally, you and your driver/guide will take a short hike (about 20 minutes through the jungle where you can see local plants and butterflies) to the Volio waterfall, a 12m high waterfall in the Talamanca mountains, where you can swim if you like. Should this waterfall be too dry, we will take you to an other waterfall in the area where you can enjoy swimming in the pristine nature pools.

Note: Your feet might get wet while exploring the waterfall, so make sure to wear appropriate shoes or bring an extra pair for changing after the hike
Tour includes:
Entrance and tour of the Jaguar Animal Rescue Center located near Playa Cocles. This center serves as a refuge and rehabilitation center for many local animals including members of the cat family, monkeys , snakes and more.

Visit to an indigenous family who explain to us the way of indigenous chocolate being made — demostration of the process, from the growing of the Cacao plant to the making of chocolate.

Hike to a beautiful waterfall

Transportation and drop-off at your Puerto Viejo hotel.