Jungle Canopy & Zipline Tour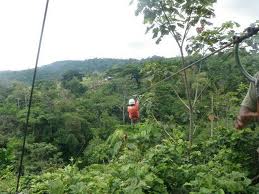 Duration: 4 Hours (approx.)
You will be picked up from your hotel and drive you toward the farm located about 30 minutes from Puerto Viejo. The driver will drop you off at the first canopy platform. The most spectacular cable (285 meters length, 80 meters altitude) is located two cables away from the entrance. This cable will carry you directly to the heart of the forest where you will begin a walking tour with one the the nature guides.
Throughout the tour you will become acquainted with the flora and fauna of the primary forest and learn how indigenous communities utilize these plants. After the hike you will arrive at another platform to continue your canopy adventure.
This tour includes 9 aerial and 14 on land platforms for a total of 2560 meters of cable. Once you reach the 8th platform, you will not touch the ground again until the final run which will give you a spectacular birds eye view of the jungle.
On each platform our nature guide will explain the curiosities which are found in this extraordinary environment. On the platform at the end of the aerial run, you will have the choice of making a descent by a Tarzan swing, or by a zip line cable to the ground.
After this we begin the return to the entrance of the farm where we will have a snack and then drive back to Puerto Viejo.
Tour information:
Departures: Daily at 8:30 AM, 1:00 PM
Duration: 4 hours approximately
Cost per person: Regular Canopy Tour: Adults $59.00,
Add on: Canopy Tour + Superman Cable: Adults $71.00,
Extra: $15 per person for Cahuita pickup
Includes: Transportation, naturalist guide, fruits & beverages, all safety equipment
Bring: Long shorts, insect repellent, comfortable shoes